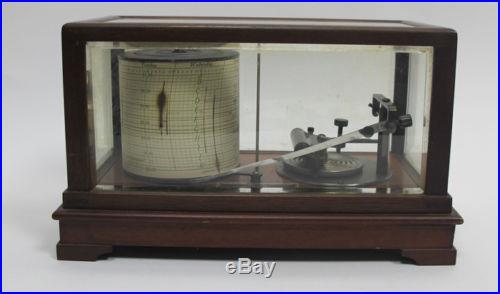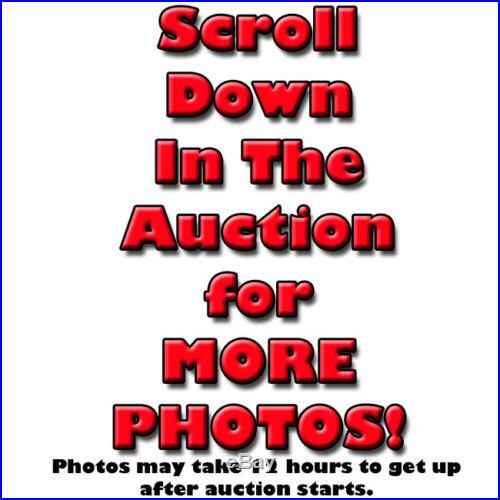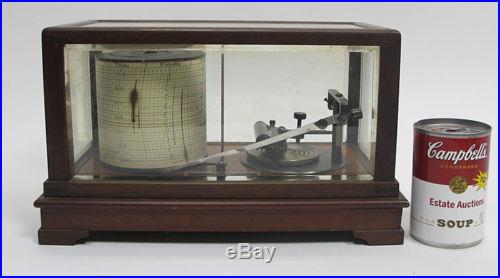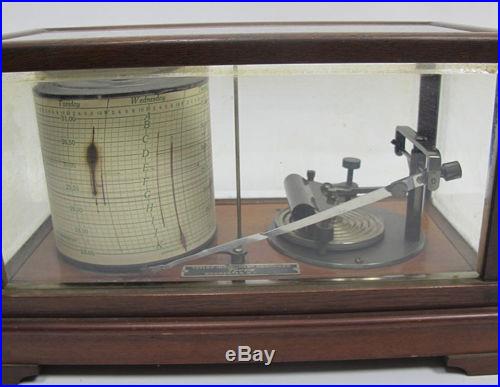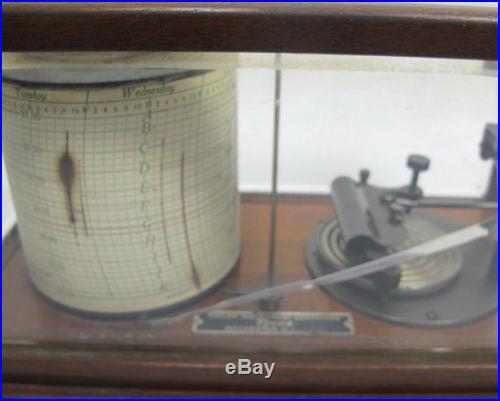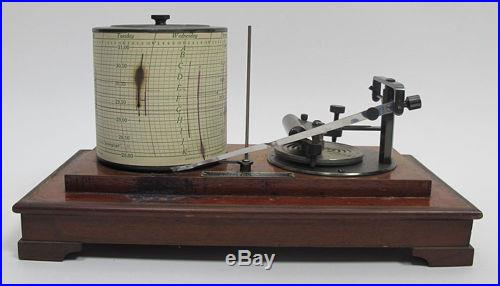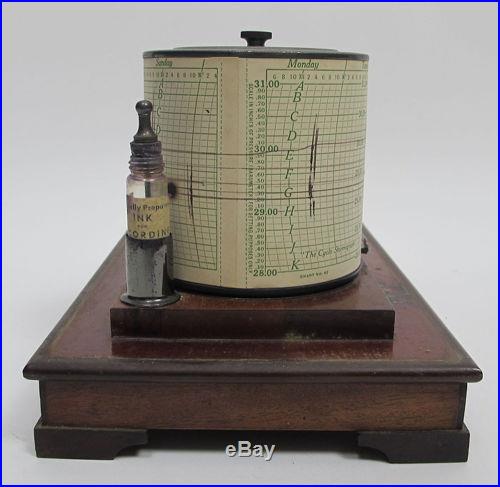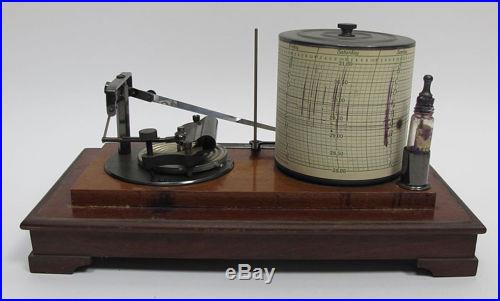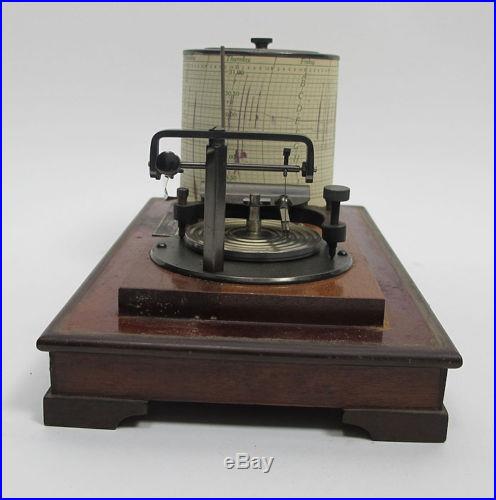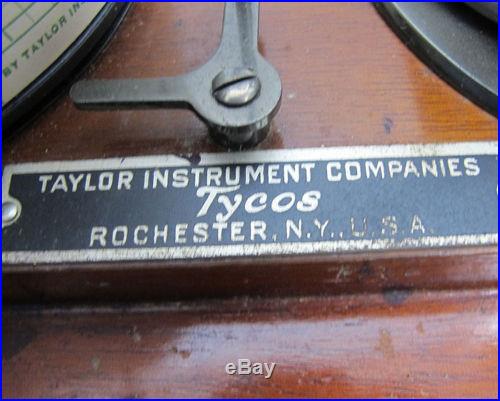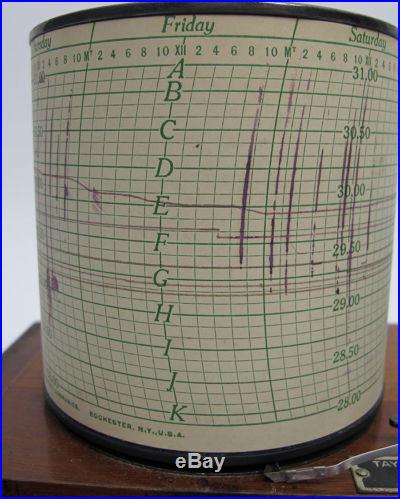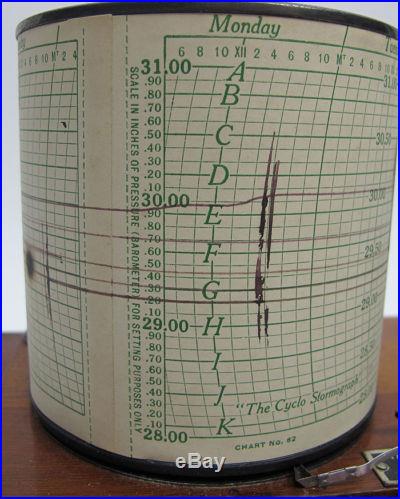 And our staff strives for 100% customer satisfaction, our 100% feedback rating will vouch for that. We work with consigners from coast-to-coast and work. Hard to make sure we have top quality items. We are "your quality zone" – search "yqz" to see our other listings or. C 1920 taylor instrument co cyclo-stormograph-barograph barometer tycos.
Amazing piece of scientific instrumentation! Please note: we had this up back in february. For whatever reason it never got paid for, their loss is your gain. Don't let it get away from you this time.
This machine was used to record the barometric pressure of the course of 7 days. This was originally made circa 1920's. The intricate simplicity of this piece is what makes it so cool. The barometer plate itself changes shape with the rising pressure. As it changes the thin bar moves and makes the arm go up and down accordingly.
The cylinder spins and the changes are recorded. The "pen" on this is more of a trough that comes to a point. There is a small ink well on the back right corner that has, what appears to be, the original ink bottle in it. The ink inside is still wet believe it or not. We cannot verify operation, so we cannot speak to its accuracy either.
The case is made of mahogany with a beveled glass top. 12 1/2″ x 7″ x 7 1/2. Here is a bit of history on the barograph from wikipedia. A barograph is a recording aneroid barometer.

A barograph is used to monitor pressure. The pointer in an aneroid barometer is replaced with a pen. It produces a paper or foil chart called a barogram that records the barometric pressure over time. Barographs use one or more aneroid cells acting through a gear or lever train to drive a recording arm that has at its extreme end either a scribe or a pen.

A scribe records on smoked foil while a pen records on paper using ink, held in a knib. The recording material is mounted on a cylindrical drum which is rotated slowly by clockwork. Commonly, the drum makes one revolution per day, per week, or per month and the rotation rate can often be selected by the user. Since the amount of movement that can be generated by a single aneroid is minuscule, up to seven aneroids (so called vidie-cans) are often stacked "in series" to amplify their motion. It was invented in 1844 by the frenchman lucien vidi (1805-1866). As atmospheric pressure responds in a predictable manner to changes in altitude, barographs may be used to record elevation changes during an aircraft flight. Barographs were required by the fai to record certain tasks and record attempts associated with sailplanes. A continuously varying trace indicated that the sailplane had not landed during a task, while measurements from a calibrated trace could be used to establish the completion of altitude tasks or the setting of records.
Examples of fai approved sailplane barographs included the replogle mechanical drum barograph and the ew electronic barograph (which may be used in conjunction with gps). Mechanical barographs are not commonly used for flight documentation now, having been displaced by gnss flight recorders. Today, mechanical recording barographs for meteorlogical use have commonly been superseded (though not all) by electronic weather instruments that use computer methods to record the barometric pressure.
These are not only less expensive than mechanical barographs but they may also offer both greater recording length and the ability to perform further data analysis on the captured data including automated use of the data to forecast the weather. Older mechanical barographs are highly prized by collectors as they make good display items, often being made of high quality woods and brass.
The most common weather barograph found in homes and public buildings these days are the 8-day type. The late victorian to early 20th century is generally considered to be the heyday of barograph manufacture, many important refinments were made at this time, including improved temperature compensation and modification of the pen arm, to allow less weight to be applied to the paper, allowing better registration of small pressure changes i. Less friction on the nib. But, newer solid state, digital barographs from manufactures such as asi eliminate this issue altogether, since they use no moving parts. Keep scrolling there are 23 more photos.
In our 16th year on e-bay. We are trading assistants – we can sell items for you! Over 16,500+ positive feedbacks (11,535+ unique). 100% positive feedback and we maintain a great rating. Please note: we put up a very ecclectic collection of items and are not experts in every area.
So descriptions are our best guess as to what something is. While we try to research each item to the. We have worked very hard to build our little business and it is very important to us. We try and do business the old fashioned way and have a rather simple outlook.
Treat all of your customers as if they are family. Postal rates we needed to define and explain our methods of business. One – who we deal with. We add a reasonable cost for materials, normally that is $2.00 for regular sized packages. For small flat items $1.00.
That covers the expense of boxes, envelopes, bubble wrap, peanuts, (we only use new packing materials, life is too short to scrounge through dumpsters). For larger items that take a larger more expensive box, we charge a little more, to cover the special box, example paintings or lamps. For oversized items or items that will take special attention to package, build a crate, wrap a zillion things individually, etc. If you do not, we charge the same amount as if you did. That allows for us to have international tracking. Six – time frame to pay. If there is a rush, we will make every effort to work with you in getting it out of the door faster.
As you can see from our feedback, we do not disappoint. Of course, items that need special attention, crating, etc adds to the time frame of those items. Sometimes an item is just too big for any other option.
C 1920 Taylor Instrument Co Cyclo-Stormograph-Barograph Barometer Tycos yqz" is in sale since Saturday, May 10, 2014. This item is in the category "Antiques\Science & Medicine (Pre-1930)\Scientific Instruments\Barometers". The seller is "estateauctionsinc" and is located in Seaford, Delaware. This item can be shipped worldwide.